Postcard Series 24: Dubai, United Arab Emirates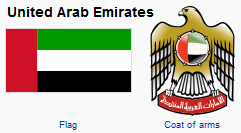 Population: Emirate of Dubai: 2,262,000 | UAE: 6,000,000
Capital: Abu Dhabi Largest City: Dubai
Currency: UAE dirham (AED)
Languages: Arabic


Famous Landmarks: Burj Al Arab & Sheikh Zayed Road, Emirates Tower

Some of the largest sand dunes in the world in the south of Abu Dhabi in the Liwa Oasis area.
Beautiful beaches on the east coast. Rugged, remote wadis in the northern emirates
Links:
Dubai Government Official Website
Dubai Tourism
UAE Tourism Portal

Burj Al Arab, Dubai : Seven star deluxe Hotel
Dubai, Emirates Towers
The Creek Golf & Yacht Club, Dubai
The Bidaya Mosque, Fujairah, UAE: A historically significant worshipping place
These postcards were sent as part of a contest at mysinigang.com | Senders: Norie and Norie Kate from Doha, Qatar.