Blog Series 11: I Post, Therefore I am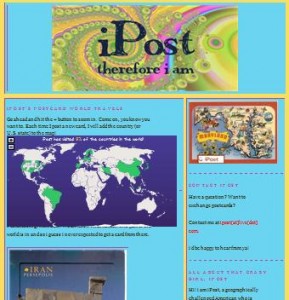 "Cogito, ergo sum" is Latin for "I think, therefore I am"; Rene Descartes' famous philosophical lines. "iPost, Therefore I am" is a Postcard blog from "a geographically challenged American who is addicted to Postcrossing, (her) drug of choice," according to her about profile.
The blog is a pleasant surprise from the usual postrossing/postcard blogs because the author takes the time to research a little bit on where a postcard comes from and shares it to her readers. She includes tidbits of each country or area where the postcards originated and not merely showing the postcards.
Now comes the interesting part. She also is currently having a 50 US State Postcards Challenge of which I hope to be of help in some way! The idea is simple: To receive a postcard of each US State at the end of the Summer 2008!
I wanted to send one right away when I found out but unfortunately, she already has one from Massachusetts. 🙁
So I offered instead to feature her blog here to promote the project. 🙂
These are the States which she already has: Texas, California, Montana, Indiana, Maryland, Massachusetts, New Hampshire, Illinois, Oregon, Washington, Pennsylvania, Minnesota, Virginia, Florida, Wisconsin, Oklahoma and Arkansas, New Jersey, Georgia, Arizona
States where people offered but hasn't received yet: Vermont, Michigan, Wisconsin and Missouri, Kentucky, North Carolina
If you're up to the challenge and don't see your State yet- be part of the project! Visit her site and let her know you're sending a postcard! (Mentioning that you learned it here at the postcard collector would be great! Just so I at least know I helped somewhat… 😉 ) Big thanks to all of you!
____________________
The Author: iPost
Location: Maryland, USA

Profile: "i am trying to educate myself about our world, one postcard at a time. Welcome to my world of snail mail. Join me in my manic journey around the world, searching for truth, goodness, justice, and um…oh yeah… great stamps."
Website Up Since: May 2008