On Edinburgh, Scotland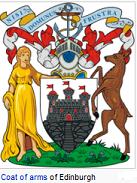 Population: 448,624
Currency: Pounds
Famous Landmarks: Lakes, Mountains and Castles. St. Mary's Cathedral, Urquhart Castle, Edinburgh Castle, The Mound, Scott Monument, Old Town, New Town, Lake District
Links:
Edinburgh City Guide
Visit Edinburgh, Scotland
Take me to Edinburgh

A postcard from my Dad in one of his adventures while in the UK! He loves history and was he impressed by the majestic sights he saw in beautiful Scotland!
Scotland is a country by itself and is part of the United Kingdom which is a union of four constituent countries namely: England, Northern Ireland, Scotland and Wales.  According to Wikipedia, Edinburgh is considered the seventh largest city in the United Kingdom and it is Scotland's Capital city.